May 8, 2023
Ep 117: What is Your Ideal Retirement Age?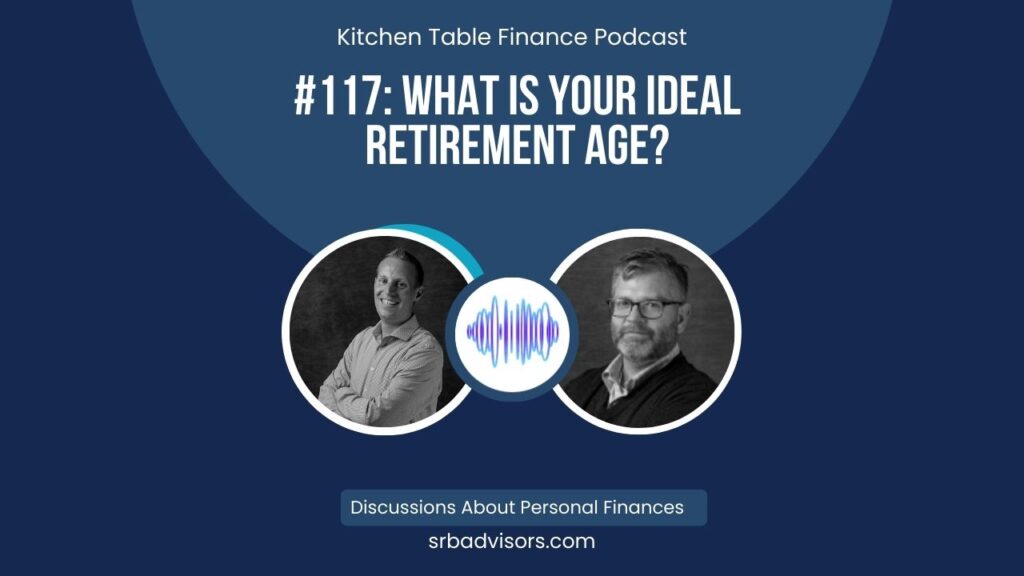 Podcast: Play in new window | Download
In today's episode, we discuss what is your ideal retirement age. We take a look at retirement in the United States and how it's shifting. Join us as we take a dive back to where it came from and how we got here. 
We borrowed a lot of this from an article in The New York Times last week titled What Age Should You Retire? What Health Experts Say
We take a look at some of the non-financial issues with changing retirement age.
Did you know that the retirement age was originally set by politicians?
SSA in 1935 set it at 65 when less than 60% of Americans were expected to live that long
Designed to provide a few years of coverage for "the lucky few" who lived long enough
Since SS full – retirement age was set at 65, life expectancy has risen 16 years
Now many American live years/decades in retirement

Created huge political strains on retirement systems

US SSA expects funds depleted and benefits cut by 2032
France experiencing political protests on a large scale over moving the retirement age

Retirement age is 62, but life expectancy is 82!
What is your Work-Life Expectancy?
How long can you remain healthy and disability-free?

Gal Wettstein, Center for Retirement Research at BCU
Found if an American is healthy at age 50, roughly 23 years of being disability-free plus eight years with that disability. Suggests WLE = 73

Partly medical advances partly change how we work (service/knowledge)
In Knowledge-based jobs, working into your 70s is reasonable from a cognitive perspective

Lisa Renzi – Hamilton, Inst of Gerontology at U of GA
We remain capable cognitively well into the 70s
Her research shows while some brain functions diminish after 45, others including accumulated knowledge and social cognition continue to improve for decades
These processes are actually maintained and strengthened at work
The article also cites a study showing delayed retirement led to better health outcomes and delayed risk of death, regardless of health prior to retirement

When discussing appropriate retirement ages, it is also important to discuss inequities

Physical jobs vs. knowledge-based jobs
Gender and race differences

What is the real goal of Social Security? How do we, as Americans want retirement to look?
Additional Thoughts
Keep in mind that part of what made Social Security acceptable to Americans was that they were essentially told they'd save their money via taxes and then get it back in retirement, not seen as a redistribution of wealth
That has changed with the taxation of benefits and by the way the formula credits benefits
The Americans that are often forced to retire earlier for physical reasons are also those who are the least able to afford to do so.
---
About Shotwell Rutter Baer
Shotwell Rutter Baer is proud to be an independent, fee-only registered investment advisory firm. This means that we are only compensated by our clients for our knowledge and guidance — not from commissions by selling financial products. Our only motivation is to help you achieve financial freedom and peace of mind. By structuring our business this way we believe that many of the conflicts of interest that plague the financial services industry are eliminated. We work for our clients, period.
Click here to learn about the Strategic Reliable Blueprint, our financial plan process for your future.
Call us at 517-321-4832 for financial and retirement investing advice.