July 10, 2023
Ep 126 – Don't Fall for These Scams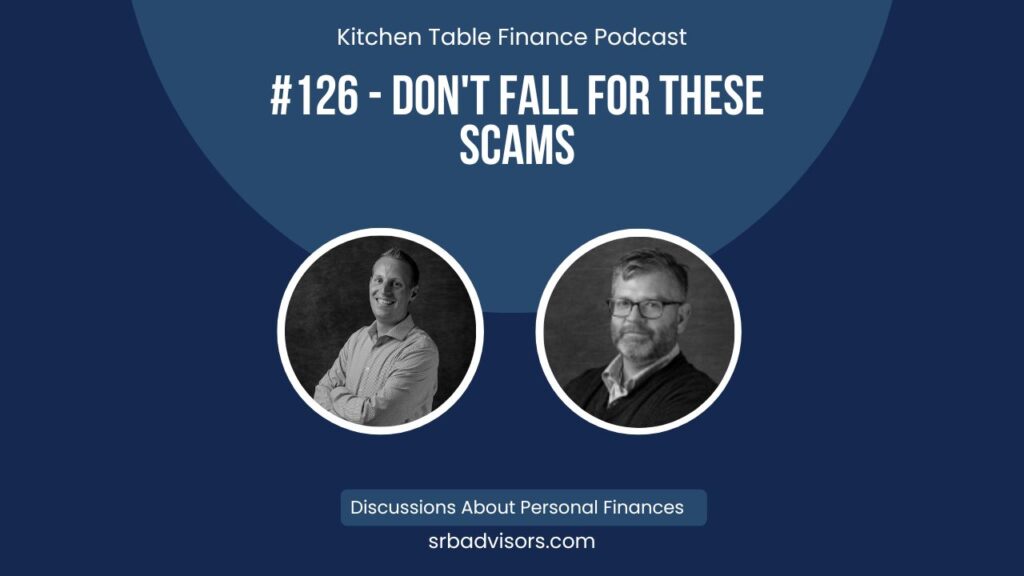 Podcast: Play in new window | Download
Join Dave and Nick as they talk about cyber security and keeping yourself safe. They go over some of the steps that they take for their clients to make sure that they maintain safety.
Watch on YouTube HERE
As you age, there is a real threat of being targeted for different kinds of risks, scams, and abuses out there that are targeted toward the older population. It can be difficult to have these chats it's important to know.
SRB goes through Cyber security training as a team every year. Our team also did an elder abuse program that covered things like how to spot, prevent and help with financial abuse.
We decided it was an important topic to share on our podcast because we want folks to know what we're doing and what they might be able to do. Elder abuse doesn't just touch us and our clients. Many people are touched by it by the fact that they're taking care of elderly loved ones.
Younger people can also be vulnerable to scams just because they hit at the right time and in the right context. You can get caught off guard by something that maybe in other circumstances they would have said, "Oh no, that doesn't seem right."
Scams to Watch Out For:
Emails asking for money
Subscription renewals for things you didn't subscribe to (or already deleted)
Virus software companies trying to get you to sign up for their software
Emails that impersonate your bank or bank statements
People stealing checks out of mailboxes
Grandkids calling their grandparents from jail requesting money (it's not really them)
If someone calls you with a sense of urgency and encourages you to do something within the next few minutes, it could be a scam.
Emails that are poorly worded
Listen to the full episode for more scams and ways to avoid them. Please share with friends and family who need to be aware of these scams so they don't fall victim.
---
About Shotwell Rutter Baer
Shotwell Rutter Baer is proud to be an independent, fee-only registered investment advisory firm. This means that we are only compensated by our clients for our knowledge and guidance — not from commissions by selling financial products. Our only motivation is to help you achieve financial freedom and peace of mind. By structuring our business this way we believe that many of the conflicts of interest that plague the financial services industry are eliminated. We work for our clients, period.
Click here to learn about the Strategic Reliable Blueprint, our financial plan process for your future.
Call us at 517-321-4832 for financial and retirement investing advice.