July 26, 2023
Ep 128 – MSU Case Study – Couple Near Retirement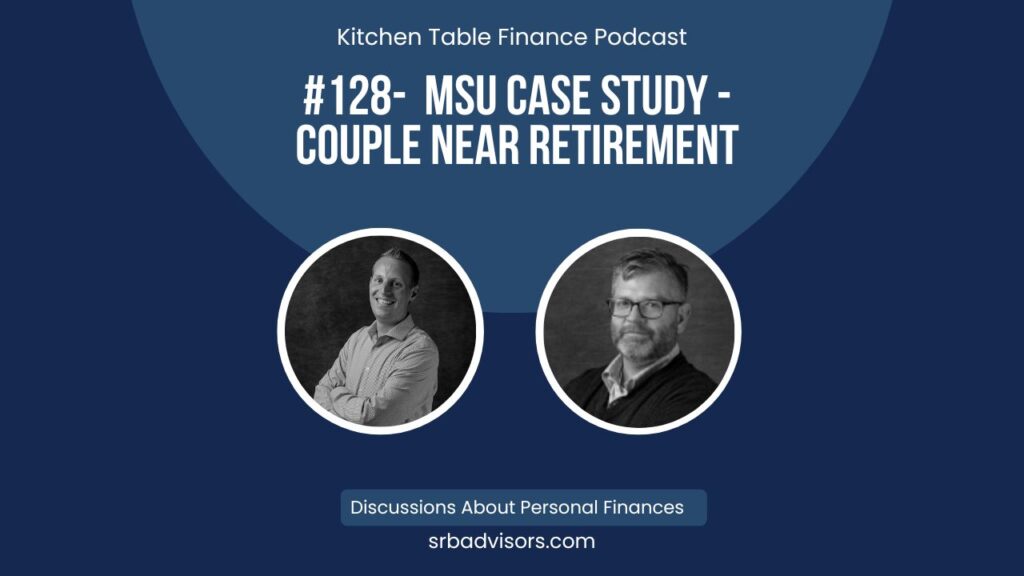 Podcast: Play in new window | Download
Dave and Nick have another MSU case study for you. This one is a very common scenario that comes up often – couples who are nearing retirement and seeking help from a financial advisor. They know they want to retire and they are looking for someone to help them put all the pieces together.
They have been managing their money themselves, for the most part, with some support from the plan providers at Michigan State. But now that they're getting close to crunch time they are really starting to think about what it means to go from fully employed long-term careers at Michigan State to being retirees.
Two Common Questions about Retiring from MSU
The first two questions typically are:
"Can we retire?"
"What does that look like?"
They are concerned that there is something they are missing or not thinking of and they want our help thinking through the options and managing it going forward.
The people that come to us in this situation are commonly in the same age range with similar situations. Here are the avatars we created to discuss this case study.
Bob is 62 and Barb is 61, they are married and they both have long careers as MS faculty. They've saved for retirement all through their careers. However, Bob is worried that with raising a family and moving across the country once, they are behind. He's ready to retire if they can afford it but Barb isn't so sure, regardless of their finances. Bob is old enough to draw social security and he feels he should be able to be done with work.
They set up their MSU accounts years ago with TIAA CREF and then left them alone. We chose TIAA CREF for this example because it gives us a couple of wrinkles to talk about with their plan. Bob knows they have a lot of risk but it is paid off well over the years and he is confident that will continue into the future. Regardless of social security and investment accounts, Barb feels that they can't retire until their mortgage is paid off. They owe about $120,000 for the next five years at a rate of 3.5%. This was originally a fifteen-year mortgage and they refinanced when rates were very low.
Listen as Nick and Dave add some common themes to this scenario and unpack it a little bit.
Do you know anyone in a similar situation who works at MSU (or another university) who is getting ready to retire? A financial advisor may be a great investment at this stage of the game.
Call us today! 517-321-4832 
Shotwell Rutter Baer financial planners specialize in helping clients who are employed by MSU. We have extensive knowledge of the benefits packages offered by MSU and how to maximize their offerings. You can find more information on the MSU section of our website.
---
About Shotwell Rutter Baer
Shotwell Rutter Baer is proud to be an independent, fee-only registered investment advisory firm. This means that we are only compensated by our clients for our knowledge and guidance — not from commissions by selling financial products. Our only motivation is to help you achieve financial freedom and peace of mind. By structuring our business this way we believe that many of the conflicts of interest that plague the financial services industry are eliminated. We work for our clients, period.
Click here to learn about the Strategic Reliable Blueprint, our financial plan process for your future.
Call us at 517-321-4832 for financial and retirement investing advice.