October 2, 2023
Ep 137: 4 Step Plan for Dealing with the Financial Media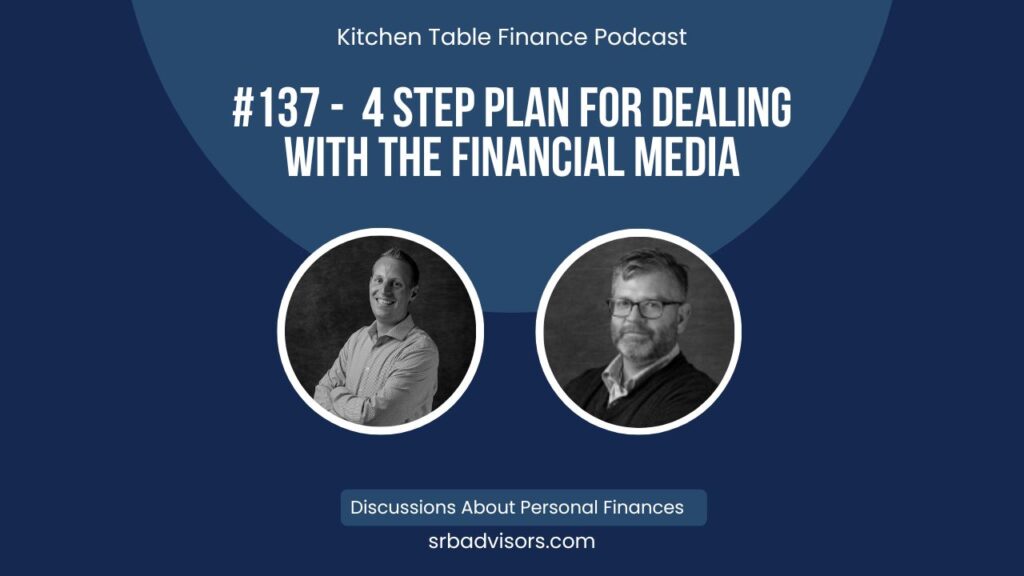 Podcast: Play in new window | Download
Join Dave and Nick as they walk you through how to decipher and decode all the information that comes at us in the media regarding finances.
Watch on YouTube HERE
This is something we both talk about with our clients on a regular basis. Sometimes this is good stuff to remind ourselves as well,
It's all kinds of stuff that get you and me riled up in the market and the financial media about the markets. It's natural.
We are here to help you take the emotions out of it in order to see what is really going on
We've borrowed the process from Dr. Daniel Crosby's book The Behavioral Investor. This book takes a lot of the concepts of behavioral finance and teaches how to apply them to how you think about your portfolio and where we usually screw up.
We did a book review of Thinking Fast and Slow by Daniel Kahneman a couple of weeks ago.  Think of that book and this book as both good foundations for how to think about your finances.
One section of this book talks about how the financial media plays a role in our thinking,  and it's not the role that most people assume. The overarching premise here is that the financial media is not there to help you be a better investor. They're there to get eyes and viewers and listeners and readers and none of that rarely has anything to do with making you a better investor,
Listen to the full episode to hear all 4 steps and become better at deciphering what the news is really trying to tell you.
---
About Shotwell Rutter Baer
Shotwell Rutter Baer is proud to be an independent, fee-only registered investment advisory firm. This means that we are only compensated by our clients for our knowledge and guidance — not from commissions by selling financial products. Our only motivation is to help you achieve financial freedom and peace of mind. By structuring our business this way we believe that many of the conflicts of interest that plague the financial services industry are eliminated. We work for our clients, period.
Click here to learn about the Strategic Reliable Blueprint, our financial plan process for your future.
Call us at 517-321-4832 for financial and retirement investing advice.