February 18, 2022
Nick Nauta Earns Registered Life Planner® Designation from Kinder Institute of Life Planning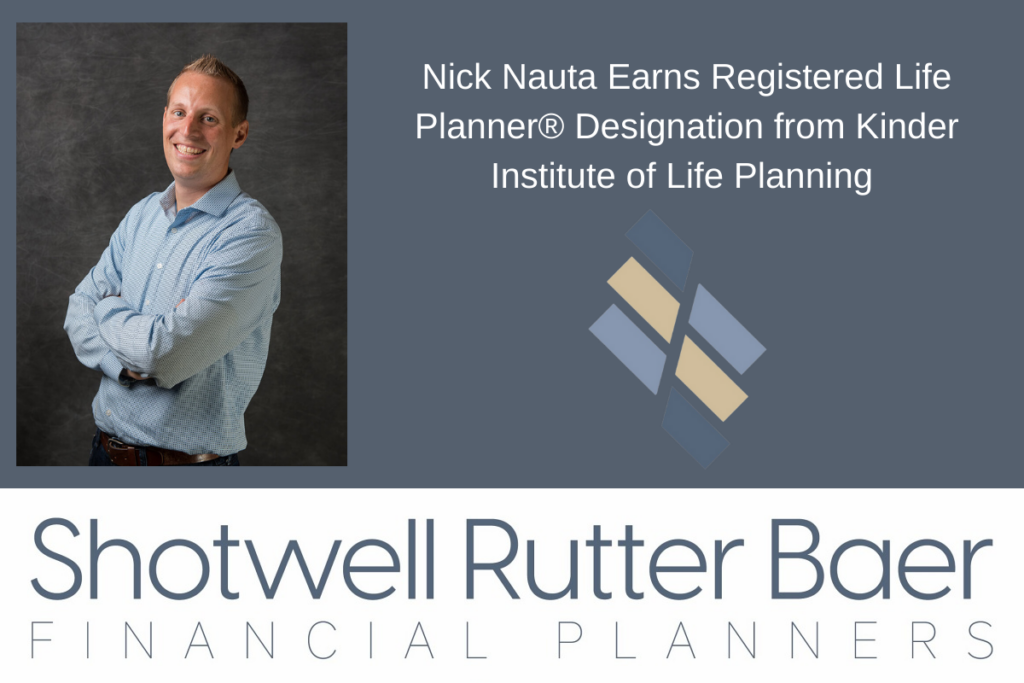 Nick Nauta, CFP®, CLU®, RLP® Brings Kinder Life Planning Methodology and Signature EVOKE® Process to Firm's Clientele
Kinder Institute of Life Planning has announced that Nick Nauta, CFP®, CLU®, Financial Planner at Shotwell Rutter Baer, is among over 500 advisors globally to earn the prestigious Registered Life Planner (RLP®) designation. Earning this designation requires a strong commitment to the financial planning profession, completion of a two-day experiential training called The Seven Stages of Money Maturity®, a four-day immersive Life Planning training on using the Kinder EVOKE® process, and a six-month practicum involving peer review with mentor coaching.
Founded in 2003, Kinder Institute of Life Planning's mission is to teach financial planners and investment advisors the relationship skills and specific methodology of Financial Life Planning. Life Planning is the human side of financial planning. Life Planning seeks to discover the deepest and most profound goals of a client through a process of listening and inquiry. Then, using a mix of professional and relationship skills, the experienced Life Planner, along with the client, resolves obstacles to the client's goals, creates a plan and guides the client to the accomplishment of their goals.
George Kinder is the father of the global financial Life Planning movement, a visionary concept that uses mindfulness and inner listening techniques to teach professionals how to discover and understand their client's core life values. 
Kinder says, "We are thrilled to see the adoption of the Registered Life Planner® designation reach an all-time high within the financial services industry. Values – not just dollars – must be the true focus of financial planning." 
Kinder Institute of Life Planning provides workshops, intensive training, and consulting services to financial advisors worldwide. Their experienced professionals have presented to groups on six continents with a particular focus on the U.S., U.K., Europe, India, and Australia. The Institute's work has been profiled in The New York Times, The Wall Street Journal, Morningstar, TIME, Business Week, Forbes, Money Magazine, the Financial Times, Financial Advisor, New York Magazine, Harvard Magazine, the LA Times, AARP, and more. Kinder has an editorial column in Financial Planning Today.
Kinder Institute of Life Planning also provides ongoing support and education for the advisors it has trained and who have adopted its client-centered financial Life Planning methodologies. Individuals who would like to speak to an advisor about financial Life Planning services are invited to use a searchable database, located at www.KinderInstitute.com or complete a DIY life plan for free at www.LifePlanningForYou.com. 
How to contact Nick
Nick Nauta, CFP®, CLU®, RLP®
Shotwell Rutter Baer Financial Planners
(517) 321-4832
nnauta@srbadvisors.com
---
About Shotwell Rutter Baer
Shotwell Rutter Baer is proud to be an independent, fee-only registered investment advisory firm. This means that we are only compensated by our clients for our knowledge and guidance — not from commissions by selling financial products. Our only motivation is to help you achieve financial freedom and peace of mind. By structuring our business this way we believe that many of the conflicts of interest that plague the financial services industry are eliminated. We work for our clients, period.
Click here to learn about the Strategic Reliable Blueprint, our financial plan process for your future.
Call us at 517-321-4832 for financial and retirement investing advice.