May 22, 2023
Ep 120: New MSU Professor Retirement Planning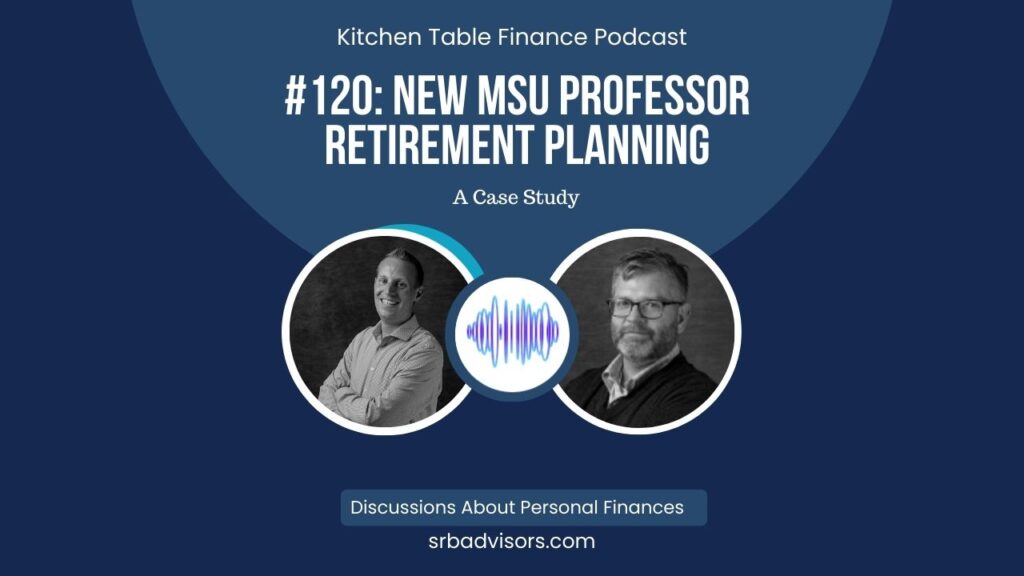 Podcast: Play in new window | Download
Welcome back to another episode, and another MSU case study. Last time we discussed a married couple who are both MSU professors and have two teenage children. You can find that episode here: Ep 114: Retirement Planning Case Study for an MSU Employee.
This time, we are discussing the scenario of a young professor in his late twenties with his first full-time college teaching position.
Join us as we talk about the ins and outs of financial planning and setting up a solid retirement plan for someone in a similar situation.
MSU Employee Case Study #2
Bob is 28 years old. He has just received his first teaching appointment at Michigan State University. He is single but expects to propose to his significant other soon. He has about $50,000 in student debt and is currently renting an apartment. He wants to pay off the debt but also wants to save for his wedding and a house. He also knows that he should start saving for his retirement. His parents didn't save enough and told him all the time that he needs to start saving right away.
Budget – how much can he afford to save/service debt?
Student loan payments: look at what payment plans make sense and a reasonable number of years to pay off his debt.

PSFL qualifications
Qualifying payment plans

If he falls into the category where his 5% contribution to the MSU plan is OPTIONAL
he should try to contribute the 5% to get the match
Increase later as the situation develops
That's a total of 15% right now
4. Set reasonable goals around wedding and house saving.
Be careful about letting others' experience set your goals (parents and retirement)
Build a contingency savings fund
Deep – dive into what getting married will mean financially
Also may mean re-thinking insurance coverages etc.
And how buying a house fits into those plans
Then start adding savings for these specifics

Contingency Fund
Paying down debt
5% into MSU Plan for now with the goal to increase over time
Shotwell Rutter Baer financial planners specialize in helping clients who are employed by MSU. We have extensive knowledge of the benefits packages offered by MSU and how to maximize their offerings. You can find more information on the MSU section of our website.
---
About Shotwell Rutter Baer
Shotwell Rutter Baer is proud to be an independent, fee-only registered investment advisory firm. This means that we are only compensated by our clients for our knowledge and guidance — not from commissions by selling financial products. Our only motivation is to help you achieve financial freedom and peace of mind. By structuring our business this way we believe that many of the conflicts of interest that plague the financial services industry are eliminated. We work for our clients, period.
Click here to learn about the Strategic Reliable Blueprint, our financial plan process for your future.
Call us at 517-321-4832 for financial and retirement investing advice.