April 10, 2023
Ep 114: Retirement Planning Case Study for an MSU Employee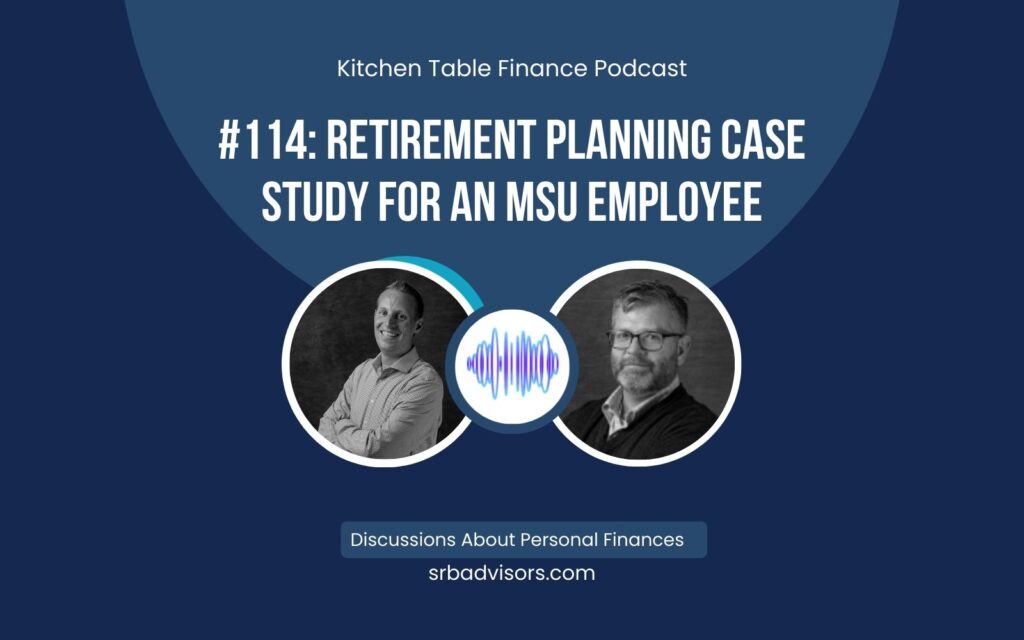 Podcast: Play in new window | Download
In today's episode, Dave and Nick have an interesting case study of a couple of MSU professors. Join us as we take a look at some of the common scenarios that come up in a case like this when we're helping people create their financial plans.
This is a composite of several clients we've met with over the last couple of years to help people get a general feel for how we look at things and how we string a plan together.
A lot of these questions come up quite often and even though we like we say, "There are no firm answers of exactly what you should do in these scenarios," there are certainly some common ways to think about these things that will hopefully help guide our listeners if they have similar questions in their own personal scenarios.
The MSU Employee Case Study
Their financial Scenario:
Married Professors, both MSU faculty

Dr. John Doe: 45 years old
Dr. Jane Doe: 43 years old
Two kids

Jimmy, age 15
Suzy, age 12

Concerns:

Know they should be balancing college savings with retirement savings but don't feel like they're doing a good job of either one.
John would like to work until a "normal" retirement age, but Jane may want more flexibility sooner/younger. They worry about what this might look like and whether they could afford for Jane to stop work sooner than John.
Would like to pay for an in-state education for both of their kids
They own their own home in East Lansing and re-financed just a few years ago. John really wants to have the debt retired before retirement and is doubling up payments.
Worried about insurance coverage if something were to happen to one of them
Feel like they should have more money/savings than they do but always seem to spend what they have

Facts:

Each saving 5% into the MSU retirement plan
Contributing $200 / month each for Jimmy and Suzy into a 529 Plan
The mortgage was done in 2020 @ 3%, $300,000 original balance with a payment of $1246. Currently paying an extra, $2500 / month

Approach:

Work through Life Planning to sort out retirement target dates and priorities
Run Monte Carlo projection to see if they are saving enough for retirement and education
College funding: delve into the goal and look at alternatives.

Flexible funding that can be used for college OR retirement?

Run an insurance analysis

Need a large amount of insurance early on, but not much need in retirement
Look at increasing group options through the MSU plan, but also consider private additional insurance

Mortgage: understand the desire to pay off the mortgage before retirement, but doubling mortgage payments right now might not be the best use of funds.

Re-deploy a portion of the double payment to augment college funding and retirement savings

Investments: risk tolerance and portfolio recommendations
Begin tracking budget and cash flow

See where money is going
Review after three or four months to look at priorities
This will help identify money to redeploy as well as give us a better idea of what spending might look like in retirement.
Listen to the entire episode to learn how we put the pieces together to have the conversation about retirement,  target dates, and priorities.
If our listeners have questions or other topics you'd like to hear, please feel free to shoot us an email at info@srbadvisors.com.
---
About Shotwell Rutter Baer
Shotwell Rutter Baer is proud to be an independent, fee-only registered investment advisory firm. This means that we are only compensated by our clients for our knowledge and guidance — not from commissions by selling financial products. Our only motivation is to help you achieve financial freedom and peace of mind. By structuring our business this way we believe that many of the conflicts of interest that plague the financial services industry are eliminated. We work for our clients, period.
Click here to learn about the Strategic Reliable Blueprint, our financial plan process for your future.
Call us at 517-321-4832 for financial and retirement investing advice.