November 13, 2023
Ep 144: Retirement Planning Headline Review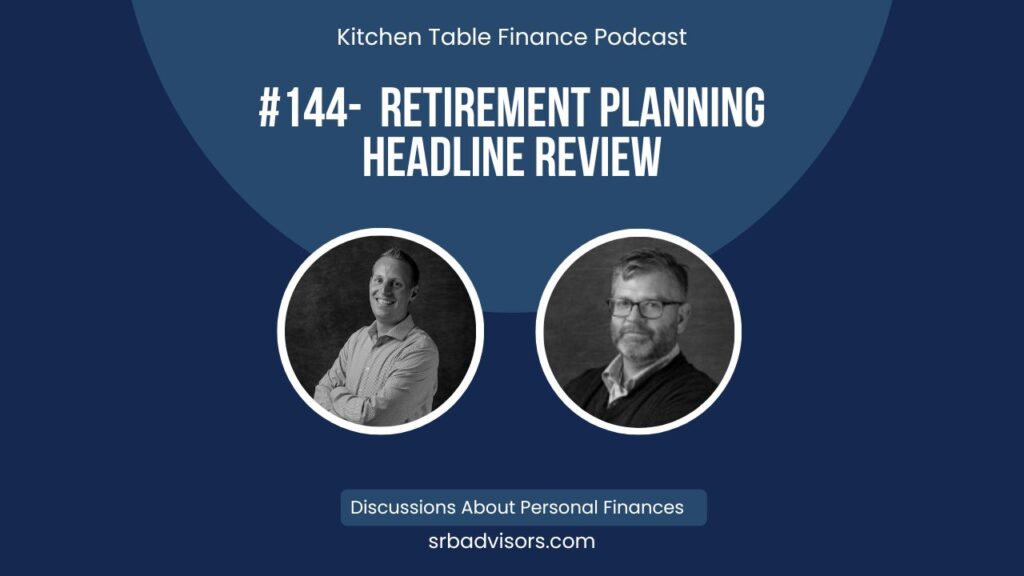 Podcast: Play in new window | Download
Join Dave and Nick as they try something new today on the show.
Watch on YouTube HERE
We hope this catches on and we can continue to do this on a regular basis. Both of us do a fair amount of reading when it comes to retirement planning and personal finance information. However, if you are in the habit of digesting news by just reading the headlines, this can be dangerous when it comes to controversial topics or topics that require a much deeper dive.
We are the weirdos who actually click on these articles and think about what they're saying and why it may or may not be right. Our goal is to go beyond the headline for our listeners to let them know what these articles are saying, why they may or may not be important to you, and how you think about things.
So, here is our curated, bespoke list of the topics we've seen in personal finance blog post sections of major newspapers over the last couple of weeks.
#1. Washington Post: Why you should swap your bucket list with a chuck-it list
It's not necessarily so much about creating a bucket list but about some life goals that maybe you should let go of. We live in a society that is all about setting and achieving goals. However, you're going to change and things are going to change and it's okay to let go of some of those.
#2. Why You Need 'Flexible Goals' for Success & Happiness by Darius Peru
This article discusses how to not fixate on the specifics of a goal so much as the idea of it. A great example he gives is the difference between,  "I want to earn $100000 versus I want to earn more than last year."
#3. Wall Street Journal: Couples Embrace the Least Romantic Date Ever: The Money Date
The least romantic date night is the financial date night.  If you're actually going to do this and be intentional about it, you can still have fun with it. Money is one of the leading causes of divorce. So with the date night, the main goal is to have these conversations with your partner, The more open you are and communicate together the better your money life will be. But it doesn't necessarily have to be sitting in front of a computer. You can have fun with it and actually have a money date where you dress up, go to a nice restaurant, have a nice bottle of wine, and have conversations about how you're spending money and why and what you need to do to be successful.
#4. Wall Street Journal: It's Getting Too Expensive to Have Fun
We can't go through an entire month without talking about inflation in one way or another. There's this idea that's come out of the summer spending spree called funflation.  The Wall Street Journal wrote an article that you know things like live event prices have increased significantly.
#5. Wall Street Journal: Never Mind the 1%. Mini-Millionaires Are Where Wealth Is Growing Fastest
Never mind the 1 % million mini millionaires are where wealth is growing fastest.  I don't love the title of the article but it was an interesting idea. Looking at the rise in inflation and generally strong investment markets over the last several years and the recent history notwithstanding, we're seeing a definite rise in the term mini millionaires.  The middle class and upper middle class in America have done a lot better than most people would guess in terms of growing their balance sheets and wealth.
#6. Wall Street Journal: There's Never Been a Worse Time to Buy Instead of Rent
Essentially, their estimate is on average it's 52% more expensive to buy a home than to rent one right now because of mortgage rates and property value increases.
Conclusion
We hope you have enjoyed this new review. If you have an article that you are reading and want to pass along we would love to take a look at it. You can email us at info@srbadvisors.com. Tune in next month when we review what we've been up to and what we've been reading in November.
---
About Shotwell Rutter Baer
Shotwell Rutter Baer is proud to be an independent, fee-only registered investment advisory firm. This means that we are only compensated by our clients for our knowledge and guidance — not from commissions by selling financial products. Our only motivation is to help you achieve financial freedom and peace of mind. By structuring our business this way we believe that many of the conflicts of interest that plague the financial services industry are eliminated. We work for our clients, period.
Click here to learn about the Strategic Reliable Blueprint, our financial plan process for your future.
Call us at 517-321-4832 for financial and retirement investing advice.