March 31, 2021
Estate Planning Basics with Special Guest Molly Petitjean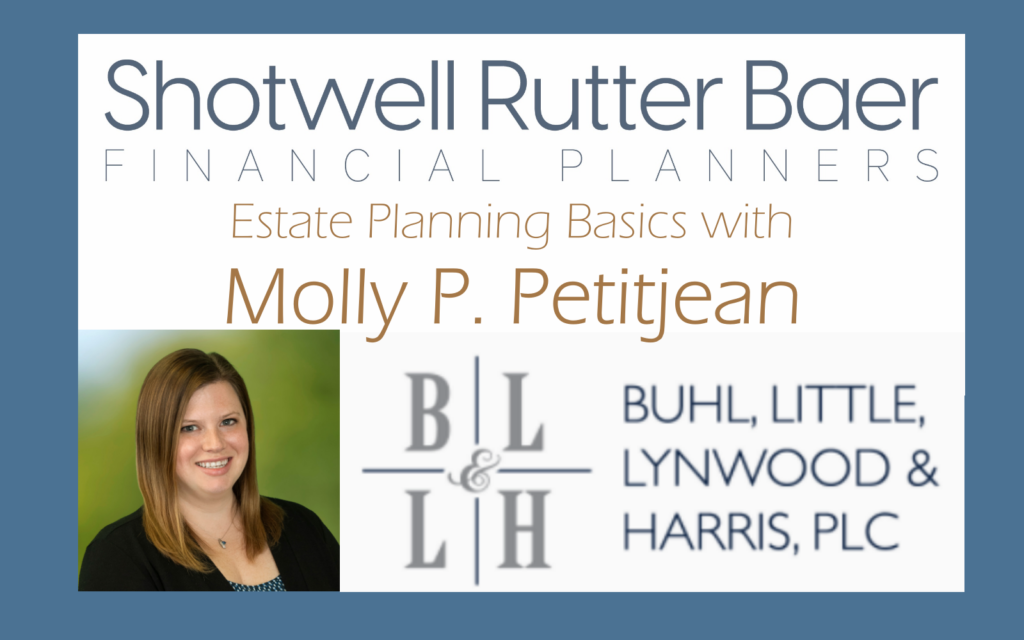 Podcast: Play in new window | Download
On this week's edition of the Kitchen Table Podcast, Nick and I interviewed Molly Petitjean, an estate planning attorney with the law office of Buhl, Little, Lynwood, and Harris, PLC in East Lansing, Michigan.
On April 21, Molly will be presenting a webinar with us on estate planning basics.
Today's conversation is a preview of that presentation. Estate planning is a complex topic that is often fraught with emotion and topics we don't like to think about. However, Molly puts these things in terms that we can understand and act upon.
Listen in as we get Molly's perspective on what estate planning really means, and what basics everyone, regardless of age, needs to address. Along the way, we talk about wills, trusts, powers of attorney, planning for non-traditional families, and choosing personal representatives.
Don't forget to register for our webinar on April 21. Details to come.
---
About Shotwell Rutter Baer
Shotwell Rutter Baer is proud to be an independent, fee-only registered investment advisory firm. This means that we are only compensated by our clients for our knowledge and guidance — not from commissions by selling financial products. Our only motivation is to help you achieve financial freedom and peace of mind. By structuring our business this way we believe that many of the conflicts of interest that plague the financial services industry are eliminated. We work for our clients, period.
Click here to learn about the Strategic Reliable Blueprint, our financial plan process for your future.
Call us at 517-321-4832 for financial and retirement investing advice.