June 28, 2021
Budgeting for Vacation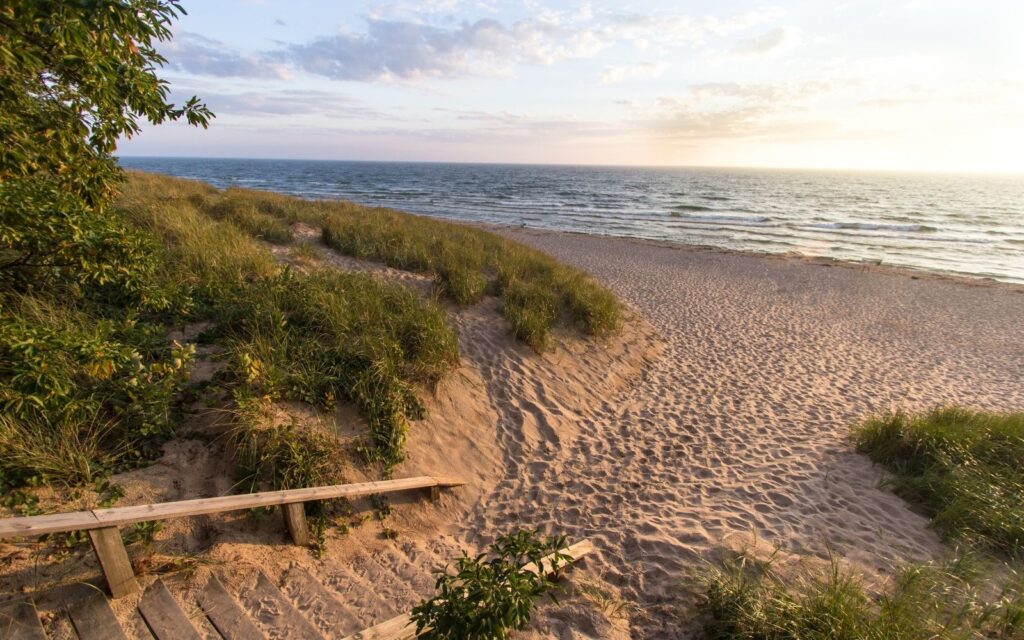 Podcast: Play in new window | Download
How are you budgeting for vacation? 
It's early summer in Michigan, and for a lot of families that means road trips to up north destinations, cottage rentals on lakes, and, sometimes, too much fudge and ice cream. Vacation season can also mean budget troubles: nobody likes to be cheap when on vacation, and these unknown, non-regular expenses can be difficult to plan around.
Strategies for Budgeting for Vacation
There are some strategies you can use to cope with non-recurring, one-time events to keep the expenses under control:
Cost Estimate. When you begin to plan your vacation, estimate the cost. Don't worry about being exact, just make an educated guess for how much gas, hotel rooms, and food should be for your group. Factor in vacation extras like ice cream. If the total needed seems daunting, remember that some of what you are spending on vacation is money that you would normally spend in your day-to-day life, and some of those expenses can be subtracted. For example, if you normally fill up with gas once each week for your commute, and you estimate that your vacation will mean three tanks of gas, you really need to only budget for the two additional. The same goes for groceries.
Plan Ahead. Prior planning is the most effective way to deal with any future expense. If you know you want to take a vacation, begin setting aside money toward the event as soon as you can. If you use a budgeting app, set up a special category. Give it a specific name, like "A week at the Beach," to help motivate you to set aside funds. In February, thinking about future sunshine may be about as good as it gets.
Ok, so it's June and I'm writing about budgeting for a trip that is almost here. What do you do if the trip is planned but you haven't budgeted?
Estimate. You should still start with step number one – figure out an estimate of the cost, and still try to save what you can in the time you have.
Look at your other savings. Are there longer-term things you've been saving for? Can you borrow those funds in the short – term and save more later to catch up? Budgeting is, after all, a matter of prioritizing how you use your money.
Using money from Savings. Taking some money from your contingency fund is ok, up to a point. But (and this is true anytime you spend from your contingency fund) plan to build it back up to where it needs to be. If your goal is to have six months' worth of expenses set aside for emergencies, and you spend a chunk of that, figure out how much you can set aside from each paycheck to get that fund back where it needs to be when you are home from vacation.
Review your Plan. Nobody likes to scrimp on vacation, but if you don't have the funds and don't have time to save, now is the time to go back and review your plans and look for ways to save on costs and discuss with your traveling partners how much you can afford to spend. Spend on what matters: a nicer hotel may not add as much to your trip as being able to rent a canoe for the day. Focus on experiences that are unique to your destination, spend your time doing stuff, and where you sleep and what you eat may not be as important. I will never forget a canoe ride on the Two Hearted River with my wife and kids when they were little, but I can't tell you anything about the hotel room we stayed in other than it must have been fine.
Using a Credit Card. Inevitably when we don't budget, extra expenses end up on our credit cards. As planners, we never advocate for taking on debt in this manner, but we recognize that in a lot of situations it is inevitable. If your vacation is a priority and you are going to end up with credit card debt, plan room in your budget now to make those extra payments and pay off the debt as soon as you reasonably can once you're back. Paying for a trip after the fact is no fun at all, and the worst situation is to still be paying for last year's trip when it's time to think about next year.
Note that while we are focusing on vacation planning with this article, these same concepts apply to any "event" for which you need to budget – whether it is Christmas, spring break, or a remodeling project. Have fun this summer. Get out there and enjoy the sunshine but try to remain fiscally responsible at the same time.
Need help with budgeting? As always, if you have any questions about your specific budget, reach out and we can discuss your situation. Call us at 517-321-4832.
---
About Shotwell Rutter Baer
Shotwell Rutter Baer is proud to be an independent, fee-only registered investment advisory firm. This means that we are only compensated by our clients for our knowledge and guidance — not from commissions by selling financial products. Our only motivation is to help you achieve financial freedom and peace of mind. By structuring our business this way we believe that many of the conflicts of interest that plague the financial services industry are eliminated. We work for our clients, period.
Click here to learn about the Strategic Reliable Blueprint, our financial plan process for your future.
Call us at 517-321-4832 for financial and retirement investing advice.