October 2, 2023
Ep 138: MSU Case Study: Retired Couple with Plenty for Retirement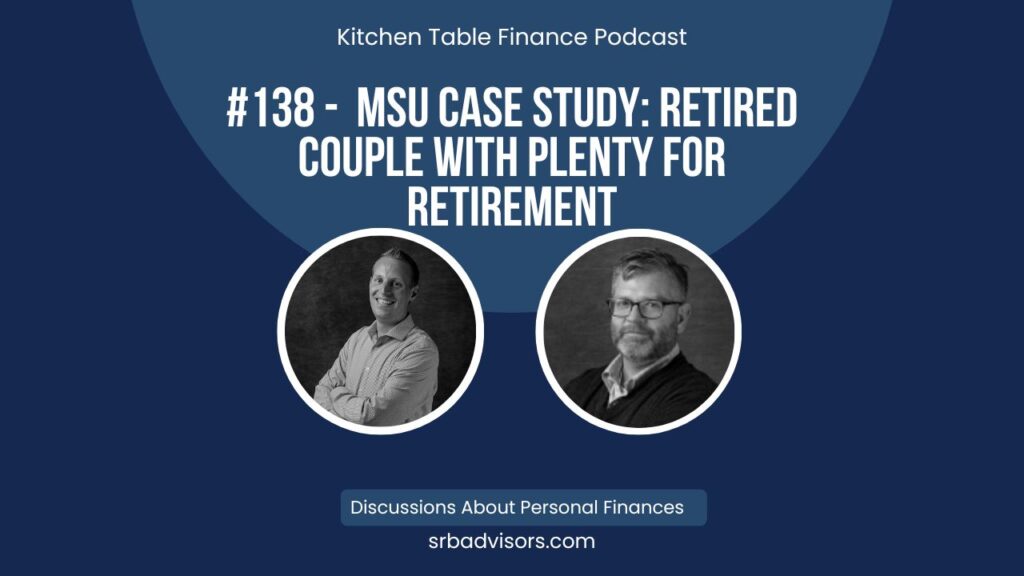 Podcast: Play in new window | Download
Join Dave and Nick for another helpful MSU Case study. This time they review retirement options for a retired couple with more than enough for retirement.
Watch on YouTube HERE
Check out our past case studies and you might find one that fits your situation, or close to it.
Ep 114: Retirement Planning Case Study for an MSU Employee
Ep 120: New MSU Professor Retirement Planning
Many of our clients are current or former MSU employees, and this case study is a very common occurrence. Through a confluence of things, lifestyle, an excellent university retirement program, and good communication about enrolling and committing to saving early.
As we were creating the outline for this episode, we realized it may seem kind of funny to talk about people who other listeners may not think have problems. We've got to admit, that these are fun problems to solve, but there are still things to solve for. It's an interesting dynamic because if you have more than enough for retirement do you really need a financial planner?
Our answer is "YES", and we are here to explain why.
There's a lot of value that a financial planner can add, not to mention peace of mind. You don't get to retirement with more than enough without worrying about it.
Case Study Couple
Our potential clients are Ron and Julie. Ron is 71 and Julie is 70.  They worked hard and saved well throughout their working years. They chose to stay in the Lansing area after retiring from Michigan State University. Their house is paid off and their kids are out of college and starting families of their own.
Their oldest son and his wife just welcomed their first child last year. Their daughter is expecting grandchild number two later this year.
Ron and Julie have always been frugal between their social security benefits and a modest draw from their retirement portfolio. They feel they have enough money to do all the things they want to do as they enter their early 70s.
They're concerned about the required minimum distributions from their portfolio and what they will mean for their taxes. They also worry about being forced to take from their accounts now and that they won't have enough for down the road.
They would like to help their new grandchildren with educational expenses. Their daughter and her husband would like to buy a house and they may need help with the down payment.
Ron and Judy want to help but Ron worries this would be unfair to their son and he is concerned with taxes as he heard their rules about gifts.
And so so now what?
We start with life planning with all of our clients. We help you figure out and prioritize what's most important to you. Since Ron and Julie are in their 70s, you might think that life planning wouldn't be very useful at this stage of the game. However, it's almost more useful as you go into retirement.
The average life expectancy for a couple in their 70s is probably in the 90s at this point. They likely have about another 20 years, and they've done such a marvelous job of saving all this money. How do they maximize those 20 years? How do they get the most enjoyment out of it?
Is it more important to help the kids now or to give them a big inheritance later?
There is a lot of stuff that will come out of the life planning meeting including creating a vision that will be truly impactful for them so they can prioritize what they should be doing.
The next step is to start defining goals and coming up with numbers on how to put it all into action. That's the fun part, particularly with people in this situation who have the ability to do most of the things they could possibly think of.
That statement of financial purpose, as Mr. Carl Richards would call it, is really important because it's the basis for all the financial decisions that we make.
Join Dave and Nick as they go through different scenarios for Ron and Julie as they figure out when and how to invest in their children, their grandchildren, and themselves.
---
About Shotwell Rutter Baer
Shotwell Rutter Baer is proud to be an independent, fee-only registered investment advisory firm. This means that we are only compensated by our clients for our knowledge and guidance — not from commissions by selling financial products. Our only motivation is to help you achieve financial freedom and peace of mind. By structuring our business this way we believe that many of the conflicts of interest that plague the financial services industry are eliminated. We work for our clients, period.
Click here to learn about the Strategic Reliable Blueprint, our financial plan process for your future.
Call us at 517-321-4832 for financial and retirement investing advice.